The Bishop of Southwell & Nottingham, Rt Revd Paul Williams, delivered his Christmas Sermon at the Midnight Service in the Cathedral Church of Southwell Minister
Bishop Paul's Christmas Night Sermon in Southwell Minster 2022
Isaiah 9:2-7 and Luke 2:1-14
We are now just minutes away from Christmas Morning, but how would it be if we heard that at short notice Christmas had been cancelled this year.
In the Lion, the Witch and Wardrobe, Mr Tumnus said to Lucy, "It is always winter in Narnia and has been for ever so long…always winter but never Christmas."
Can you imagine the dark nights closing in and the bitter cold of winter without the celebration of Christmas? C S Lewis understood what an unbearable thought that would be for a child and most adults too.
In Luke's Gospel, the world that the shepherds inhabited was one in which it seemed that a brutal foreign occupation, combined with the daily grind of poorly paid work, created its own perpetual winter.
The announcement they suddenly heard in the skies above the fields near Bethlehem, was like the appearance of Father Christmas in Narnia. It was the long-awaited news that God had come to set his people free, foretold by the prophets years before.
The angel message would do far more than brighten up an otherwise ordinary night for these lowly shepherds, it would change the course of history. The bitter and harsh winter of humanity would soon be dispelled in the bright light of a new dawn. That's why the birth of this child is the central moment in the greatest story ever told. And like the Pevensie children in the tales of Narnia, it's a story in which we are invited to play a full part, with unimaginable significance for our lives and our world.
Luke conveys the events of that holy night in a way that seems to invite us to travel with the shepherds to Bethlehem to find the baby laid in a manger – to the see with the eyes of faith what they saw with their own eyes: the source of great joy for all people: "for to you is born this day in the city of David a Saviour, who is the Messiah, the Lord."
The past few years for our world have seemed very much like Lucy's frozen Narnia. And to one degree or another, we have all felt the wintry blast of a very difficult year: with the rising cost of living crisis, war in Ukraine, the death of our beloved Queen, famine in the Horn of Africa – to name only a few.
On a more personal level you may have felt the winter of this weary world more acutely this year. Perhaps because of the death of someone close to you, the breakdown in a relationship, a difficult medical prognosis, or mental health issues.
For every one of us, with our families, our friends, our neighbours, in our city and county, in every relationship in a myriad of ways, we are burdened by what is tragically not the way it is supposed to be. And beyond what we see with our own eyes, the day by day onslaught of news from around the world is a window into unimaginable heartaches and horror.
Always winter. Never Christmas.
But we are reminded this night that we can stake our lives on something more: that the real struggles we encounter in this wounded and broken world, is not the last word.
Simply put, we are here tonight because we can believe in Christmas, and in a Christmas that has moral meaning and deep spiritual significance. However hard life may be, and while evil may seem to go on unchecked, we declare this evening that it will not always be winter.
Christmas has come and is coming, and so we are able to live with hope that fresh blessing can flow into our lives and into our world by the grace of God in Jesus Christ. He came bringing forgiveness, melting hard hearts, confronting injustice, reconciling enemies, and restoring what is broken.
This holy night we celebrate the good news that God has come into the muddle and mess, as a new born child, who is the very Light of the World. Christmas assures us that God is near to us and not far off, and God is good. And though there are many things we may never understand in this life we can be sure of his unfailing love for each of us.
Of course, for Mary and Joseph, there was still a hard road ahead, as there may yet be for us and our world. That road would one day lead Mary to the foot of the cross on which her son would die, defeating the power of sin and death, once for all.
This is what C S Lewis was above all seeking to portray in the story of Narnia, where Aslan, the Lion, sacrifices everything to break the curse that held the land in perpetual winter. That was just a story, but this is for real: the child in the manger is the Lion of Judah who has won a great victory for us, bringing to our lives and our world the transforming power of God's everlasting peace. And one day Jesus will come again to restore all things.
In the bleak midwinter of the world in which he was born, and in which we live, the joy of the shepherds really can be our joy this Christmas. And God's presence with us is the ground for our confidence as we approach a New Year, not that it will be easy or without pain, but that God is with us and we can be eternally secure, held in his love. It will not always be winter, Christmas is come, so let us open wide our hearts to receive the wondrous gift that is offered to us all.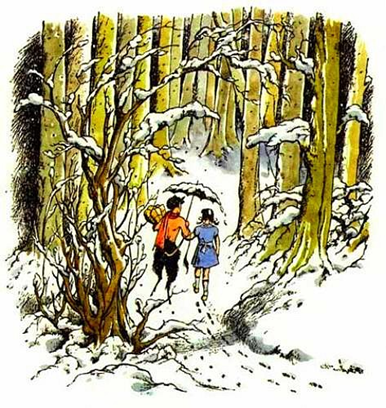 In a message on BBC Radio Nottingham on Christmas morning, reflecting on the life and faith of Queen Elizabeth II, Bishop Paul also paid tribute to key workers in the NHS, across social care and the emergency services who he said "have been extraordinary in their dedication through the pandemic and beyond."
He recalled the words of the Queen in a recent Christmas Message, "For me, the life of Jesus Christ, the Prince of Peace, (whose birth we celebrate today), is an inspiration and anchor in my life." Bishop Paul said, "We all need something or someone who will be an inspiration and anchor to us, especially when we face the storms of life…Like the Queen, and countless others besides, I have found Jesus to be an anchor that can withstand every storm. Knowing that God is with you, and for you, makes all the difference when you feel alone or wonder how you will ever keep going. With God's help we can also receive the strength to keep spreading more of the precious every-day kindness that our friends, family and world so dearly need now and in the year to come."
You can hear Bishop Paul's message on Frances Finn's Christmas morning show starting at 8:14am here.